One of my favorite methods of cooking is braising. I'm not talking crockpot or Instant Pot; I am referring to the classical method of braising where you take the time to find and sear a beautiful but tough cut of meat, lovingly prepare the mirepoix (onions, carrots, and celery), deglaze with wine that is fit to drink and gently simmer for a couple of hours. Some people prefer to braise on top of the stove, I prefer in the oven. This keeps the heat more consistent and you won't be chained to your kitchen.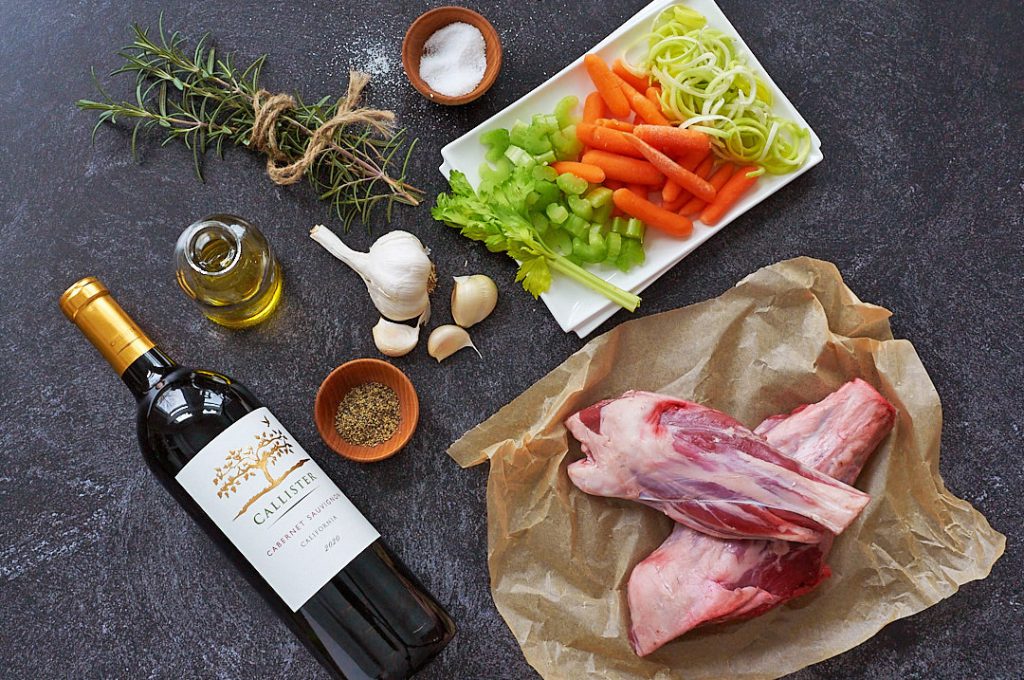 Let's face it, I would never dream of making this with a houseful of kids. First of all, there isn't enough time between carpools and sports obligations to indulge in the art of braising. Secondly, why waste the money on luscious lamb and beautiful ingredients only to have it be scarfed up in moments?
Let's talk about pots. I love pots and pans. You could say I have an obsession with great cookware at a great price. I was gifted a set of All-Clad by my grandmother from my first marriage, and I think that these are the gold standard. Fast forward 22 years and a new marriage, I am proud to say that my pots and pans look amazing. I am always on the hunt for used All-Clad. My favorite place to "score" a pan is usually on Facebook, whether it's the marketplace or the "Buy Nothing" page. There is nothing more satisfying than lovingly taking a pan from someone who has no idea of its worth and how to use it.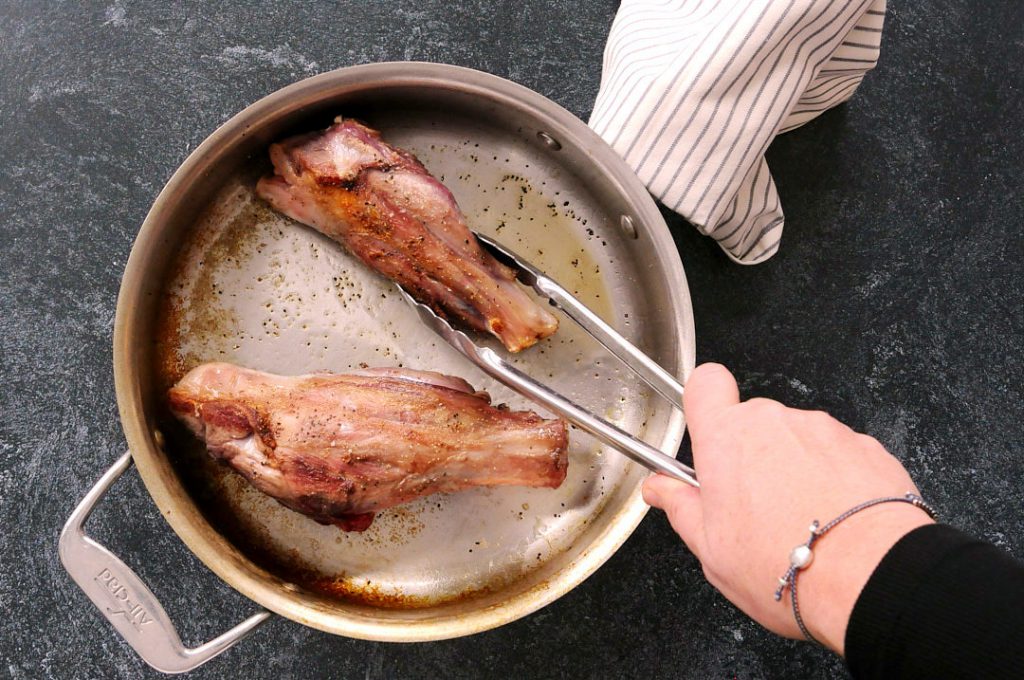 I've always had a special place in my heart for braised lamb shanks. This started when I was a student at the Culinary Institute of America. As a student, we were required to take the fifth term practical, where all of the students would draw a method of cooking out of a hat. I picked braise and let me tell you, it was the golden ticket. I could prepare the dish and pop it in the oven, then sit back and watch my classmates sweat while preparing dishes that required them to sauté, roast, and poach.
LET'S GET BACK TO COOKING
When braising, it is important to use a heavy-bottomed pan with a tight-fitting lid. It doesn't have to be All-Clad – It can be cast iron, enamel, copper, or just your favorite pan.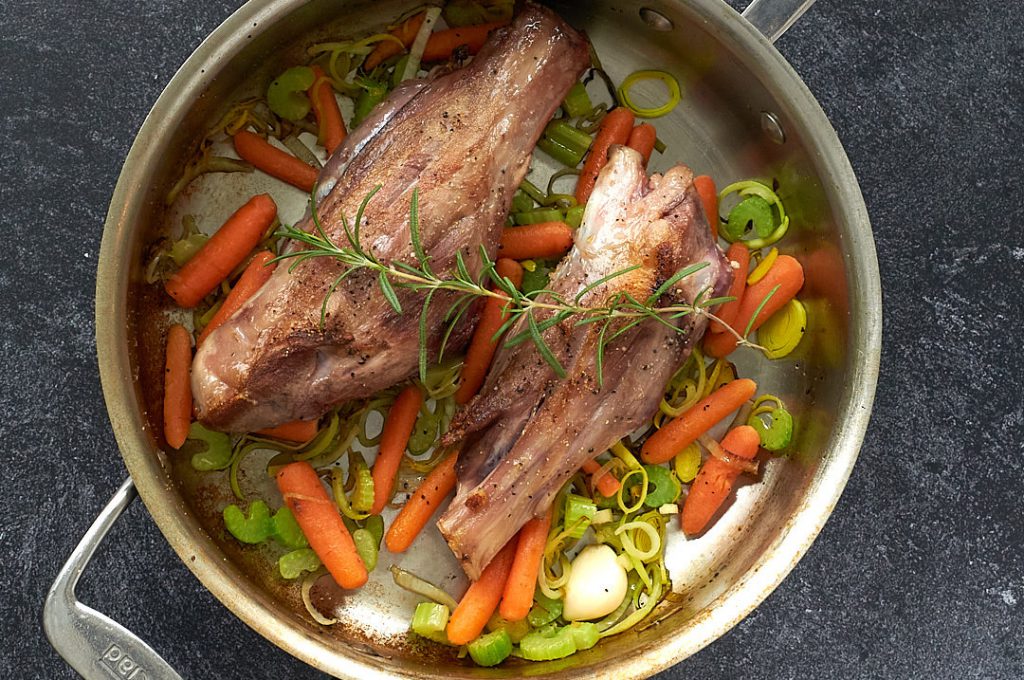 Lamb shanks are a tough cut of meat with loads of connective tissue, but when cooked properly, it results in the most tender and buttery piece of meat. The nice thing about braised lamb shanks is that they are readily available and not horrifically expensive. Two medium-sized shanks are the perfect amount. If you can't find them in your favorite grocery store, call a local butcher – I purchased these New Zealand Spring Lamb shanks from Legion Square Market, located in South Portland, Maine. This dish can be made in advance and even frozen and heated up. Simple, yet elegant. I prefer to serve my lamb shanks on a bed of minted orzo and top with fried leeks. There's just something about the softness of the meat and the crunchiness of the leeks that makes for an incredible experience.
Braised Lamb Shanks
Serves 2
INGREDIENTS
2 lamb shanks, approximately 3 pounds
2 teaspoons kosher salt
1 teaspoon cracked black pepper
2-3 tablespoons light olive oil
1 cup sliced leeks, plus extra for frying
1 cup baby carrots
1 cup sliced celery
2 whole cloves garlic
2-3 cups hearty red wine—Merlot or Cabernet
1 large sprig of fresh rosemary
Wondra flour as needed
METHOD
Season shanks with salt and pepper. Heat oil in a heavy-bottomed pan over medium-high heat. Sear the shanks on all sides until golden brown. Remove from pot and add leeks, carrots, celery, and garlic. Sauté until vegetables are soft. Deglaze with red wine and add rosemary. Make sure that there is enough wine to cover half of the lamb. Return shanks to the pot and bring to a boil. Cover and place in 350°F for 2 ½ hours or until shanks are fork tender and the meat has pulled away from the bone.
Remove meat and rosemary. Keep warm. Purée vegetables and braising liquid. If the liquid is too thin, bring it to a boil and reduce for 10 minutes. If it is still too thin, sprinkle a few teaspoons of Wondra flour in the sauce to thicken it. Wondra is a wonder, it prevents lumps! Season the sauce with salt and pepper to taste and serve on a bed of minted orzo and top with fried leeks.
MINTED ORZO
Combine hot cooked orzo with a couple of tablespoons of extra virgin olive oil, a chiffonade (ribbons) of fresh mint, and season with salt and pepper to taste.